Upcoming NCCHC and AACC Webinars:
Implementing a Registered Apprenticeship Program
April 26, 1:00-1:45pm (ET)
When implementing a successful community college registered apprenticeship program, assessing your college's readiness is a must. Planning a new registered apprenticeship program initiative at a community college requires a systematic assessment plan, investigating both internal and external assets. This assessment should focus on a college's internal capacity, institutional support, employer partner awareness and interest, employer partner support, labor market capacity, and sustainability.
To join this webinar, please click this link
Effective Messaging on the Value of Registered Apprenticeship Programs
May 5, 12:00pm-12:45pm (ET)
AACC recommends that executives be prepared to make a thorough case to board members. This should include not only why the college should pursue registered apprenticeship programs but how the institution will do so, which includes messaging to faculty that is data driven to a large extent. These data should include labor market information (LMI), employment projections, wage and salary data, local and regional economic data, and forecasting. It may also include sector strategies, as well as relevant internal information that will assist in making the case along with supporting statistics that demonstrate success related to student completion and high levels of job placement.
To join this webinar, please click this link
---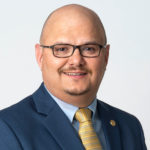 ¡Saludos! Welcome to the National Community College Hispanic Council's (NCCHC) website.
Preparing Hispanic leaders for America's community and technical colleges is the central purpose of the NCCHC. Since 1985, in partnership with the American Association of Community Colleges (AACC), NCCHC has been working to advance the number of Hispanics in leadership positions in community colleges across the United States. We accomplish this by promoting and providing professional development opportunities such as the annual Leadership Symposium and the Leadership Fellows Program.
Our charge has never been more important than it is today. As college leaders across the nation, we need to prepare to meet the dynamic needs of the expanding Hispanic population and create clear pathways to completion. This organization is dedicated to delivering high-quality leadership development opportunities so that our members have the skills and experience necessary to lead this important work.
The NCCHC Board is also committed to growing revenues, resources, and our membership to expand our reach and increase our ability to strengthen the quality of our professional development programs. I invite you to be engaged in NCCHC and participate in our commitment to building a community of leaders and look forward to an exciting and productive year ahead!
¡Les deseo mucho éxito!
Dr. Robert Vela
President, NCCHC